ANGELS OF MERCY [WORLD WAR ONE NURSES] OF THE BRIGHTON CEMETERY
Facing hardships, danger and deprivation that they endured as they carried out their duties in the care of the many maimed, injured and dying soldiers from Gallipoli to the many battlefield of Europe. They themselves under dust, heat or snows. Nurses also dealt with spanish flu and malaria, some of them succumbing to these diseases while serving and after their return. Their heroism was quickly forgotten and faded into the distance over the years. We pay homage to these amazing ladies and to the other Nurses who are buried at the Brighton Cemetery
At the going down of the sun
Mary Margaretta NIELSON known as Molly was born at Rushworth Victoria on 18th May 1885, the daughter of Niels Jorgen Nielsen and his wife Maria Annie née Hagerman. Molly trained at the Mooroopna Hospital and after qualifying she nursed at the Fairfield Infectious Diseases Hospital, St Andrews Private Hospital in Brighton before enlisting with the AANS on 28 June 1915, embarking on 21 August on the Kyarra for service with the 2nd Australian General Hospital, in Cairo. On 13 March 1916, on the Hospital Ship Nestor, Molly nursed the wounded and sick soldiers being repatriated to Australia. After six days she again left Melbourne, on the Karoola with the 14th AGH. In Suez, they took over from the 3rd AGH. From Alexandria to England she proceeded to France, to the British 14th Stationary Hospital, at Pont Reny. In September she was reposted to 2nd AGH in Boulogne, France then transferred January 1918 to another British Hospital, at Hardelot. While nursing gassed patients there, she became very ill herself, and on 12 April admitted as a patient at the 14th General Hospital until her recovery, she was then posted to the 3rd Australian Casualty Clearing Station. She was promoted to sister on 12 October 1918. With signing of the Armistice, the 3rd CCS was sent to Euskirchen in Germany where Molly remained until May 1919. Molly was granted leave and attended the British College of cooking for three months from June to September. On 15 November left on the Ormonde for Australia, she took her discharge 21 March 1920. Molly married Cecil Percy Thomson on 20 November 1920 in Caulfield. They had tree children, Percy Niel, Cecil Jean and Ercil Marion. Cecil who had inherited his father's business when he died lost everything during the depression. Cecil couldn't get work so Molly, eventually, scraped up some money to buy a very run down house which she converted into a hospital for aged. The address was 52 Northcote avenue, Caulfield which she named Brandroman. Molly finally sold the hospital in 1939 and died suddenly on 12 February 1940 she was buried with her 7 month old daughter, Cecil Jean who had died in 1925. Daughter Ercil was also buried in this grave in 2012.
Sources: Katy Briggs, Lindy Chaleyer, NAA, AIF Database, Electoral Rolls
Mary Jean McDougal MCGREGOR known as Jean, was born late in 1880 at Tarrawingee near Wangaratta, daughter of William McGregor, blacksmith, and his wife Mary Ann née Barry, a nurse and midwife.Jean's mother built a fifteen bed private hospital at 113 Rowan Road, Wangaratta called Aberfoyle. It was at this hospital that Jean and her sister started their nursing careers. In 1909 when their mother died. Jean was a nursing sister at the Wangaratta hospital when with Ida Spink she reopened Aberfoyle hospital in July 1912. Jean enlisted on 8 October 1915, a month after enlisting Jean boarded HMAT Orsova, for Egypt, where she was based initially at the No 4 Australian Auxiliary Hospital in Cairo. It is likely Jean met her future husband John (Jack) Minford there. After seven months nursing in Egypt, Jean had a stay at the 8th General Hospital in Rouen as a patient. She then returned to Egypt and made a brief visit to England escorting patients on a hospital ship to a 1000 bed hospital at Harefield which catered for the wounded from France & Egypt. Jean was promoted to Sister. While in France she was hospitalized again which forced her repatriation to Australia and she was discharged from active service 30 December 1917. Jean and Jack married at South Melbourne 31 October 1918. She enlisted again in May 1918, and it is possible that the Army did not know she was a married woman when she embarked from Sydney on 9 November 1918 aboard the Wiltshire, after a few months nursing in Cairo Hospital,. From Port Said on April 1919 on the HT Dorset Jean escorted patients on their return to Australia. Jean and Jack's only child Jeannie Isabel was killed in Ormond Road at the age of three and is buried in this grave with her parents and grandmother
Source: Elaine Race, BDM's
May Caroline SHORTALL was born at Benalla in 1880 daughter of Michael Shortall and Eliza née O' Neill. May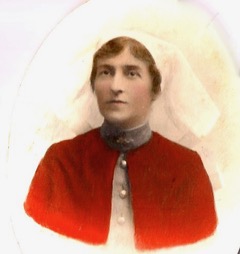 enlisted on 30 November 1916 and embarked from Melbourne on SS Orsova 6 December 1916 and disembarked England on 17 February 1917 then proceeded to France on 25 February posted to 24 General Hospital, Rouen where she tended the sick and wounded soldiers with dedication for this she was promoted to Sister. After three week leave to England she then returned to duty in France on 20 March 1918. May became ill a few times but never gave up, she served in all the Australian hospitals in France till 1919, she returned to Melbourne on 14 September 1919 and was discharged 28 October 1919. May joined the staff at the Macleod Sanatorium and for the last eight years of her life she nursed at the Caulfield Repatriation Hospital [11 AGH] . May died at Elsternwick on 24 September 1935. and is buried with her siblings and in October 2017 a plaque has been placed by the Cemetorians to acknowledging her war service and the sacrifices and hardships she had endured.
Sources National Archives, The Dubbo Liberal and Macquarie Advocate 1 October 1935, BDM's, Brighton Cemetery
Epsie Harriett CAMPBELL was born at Granya on 1878, the daughter of Ronald Campbell, a school teacher and his wife Hephzibah Selina née Cole. Epsie started her nursing career at St Arnaud Hospital. Epsie enlisted March 1917 and embarked for overseas. Her destination was Salonika, where she served. She was hospitalised April 1917 with influenza, and again in May 1917 with malaria, and with dysentery in September 1917. Epsie was invalided to Melbourne in March 1918 via the Wiltshire and was discharged medically unfit and in poor health on 1 May 1919. In 1920 Epsie married Joseph John Ogburn, a Surgeon Dentist, in 1920 at St Arnaud. In 1928 following a operation at Mt Erin Hospital in Fitzroy, Epsie died on 11 February, leaving behind her three small children.
Sources: WW1Army Nursing Service, The Argus 16 February 1928, BDM's, family reminiscences.
Mabel Alice MARTIN was born in Dunolly in 1879, the daughter of Ivan Martin and his wife Mary Jane née Conron. Mabel trained as a nurse at the Melbourne General Hospital, she enlisted 3 April 1915 and embarked from Melbourne 13 April on the Kyarra. She initially worked at No. 1 General Hospital before returning twice to Australia as a member of the nursing staff on the transport ships Ballaarat and Runic. 1916 Mabel worked at No. 11 Australian General Hospital at Caulfield for three months on a Staff Course and in the Wards for four months. She embarked from Melbourne on 6 December 1916 on the Orsova, arriving in Plymouth in February 1917 where she nursed in various hospitals in France. Mabel was admitted to hospital on 3 October 1917 with influenza. While in Italy she was again hospitalised and was transferred to France and then to England where she was admitted to Hospital, Kensington before returning to Melbourne on the Runic as part of the nursing staff on 26 November 1918 and was discharged 22 August 1919. Mabel continued nursing. In 1925 she was elected to the Committee of the Returned Army Nurses Club. Mabel died at the Heidelberg Military Hospital on 6 May 1953 and is buried in a family grave.
Sources: WW1 Army Nursing Service, Remembering our Nurses – AWM, Murray Postie, BDM's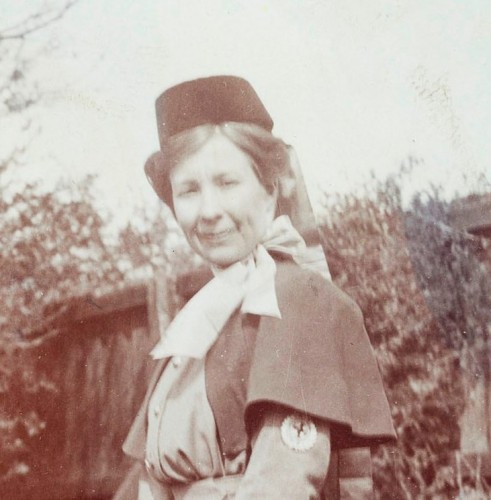 Janet RADCLIFF was born 5 April 1883 in Hobart, Tasmania, the daughter of Sir Hamilton Radcliff, manager of the Hobart Savings Bank and his wife Mary née Giblin. In 1909 she began her training as a nurse at the Hobart General Hospital, on completion of which she remained on the staff as a Sister. On the outbreak of war Janet enlisted and on 20 October 1914 with Sister Alice King, they embarked from Hobart with the 12th Battalion AIF on the troopship Geelong . On board ship the pair assisted in vaccinating the men against cholera and typhoid, relieving sea sickness and and helping to train orderlies. Janet nursed at hospitals at Mena & Ismailia, then served on the hospital ships Sicilia and Grantully Castle on duty in the Mediterranean and was present at Cape Helles for the landing at Gallipoli. After four and a half years' active service, she embarked for Australia on the 18 January 1919 aboard the ship Margha disembarking at Melbourne 7 March 1919. Janet was discharged as medically unfit on 21 November 1919 with mitral disease of the heart and anaemia. After recovering her health, Janet returned to nursing again. Wishing to further her training, she undertook a six months course at the Women's Hospital, Melbourne which she had nearly completed when she passed away quietly in her sleep on 30 November 1922.
Sources Commonwealth of Australia Gazette, National Archives, various newspapers .
Irene MCPHAIL born at Echuca on 24 January 1893 daughter of James McPhail and his wife Alice Maud née Upton. She was a nurse at the Alfred Hospital for three years before enlisting on 8 November 1917. Irene embarked from Sydney on 16 November 1917 aboard the SS Canberra with seventy other sisters their destination was Bombay, India, they disembarked 11 December 1917. Irene was posted to King George War Hospital at Poona on 9 January 1918. Four months later Irene became ill and was diagnosed with Pulmonary Tuberculosis, leaving India on 13 June 1918 en route to Australia, she was admitted to Hospital in Port Said and then resumed her trip arriving in Melbourne 22 July 1918 where she was taken to the Caulfield Military Hospital [11 AGH] . Irene died in the Hospital on 4 August 1920 and was buried at the Brighton Cemetery.
Source: National Archives.
Julia KENNY was born at Nagambie in 1886, the daughter of Thomas and Mary Kenny nèe Egan. After leaving school she took up the profession of nursing completing her training at the Mooroopna Hospital. Julia enlisted in the A.A.N.S on 4 June 1917, aged thirty and embarked for overseas on 12 June 1917 aboard RMS Moolton, she was sent to Salonica for over two years she was on active service with the troops and was then transferred to the Dartford Military Hospital, England where she remained for some months. Julia arrived back in Melbourne 1919 an after a 3 month rest she resumed nursing at the Caulfield Military Hospital [11 A G H]. Julia died 25 October 1922 and was buried in he family grave.
Sources: National Archives, Advocate Newspaper Thursday 16 November 1922. .